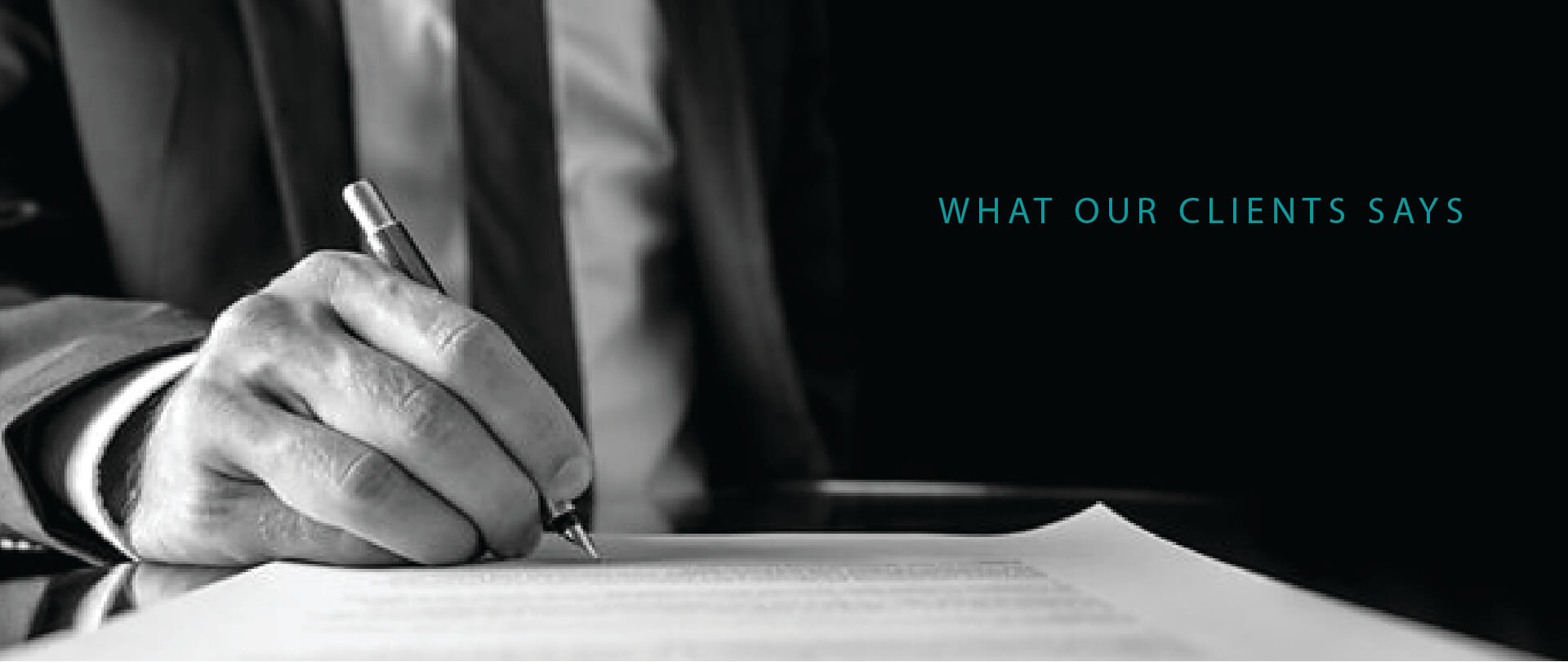 The quality of service, depth of knowledge...

The referral to work with Mr. Ashok Nageshwar (Country Head) for Anhairco was given to him from my end over 6 months back.
Chirag and his team in the last month and a half have done such a fantastic job that the client called me and told me in these exact words "Chirag is absolutely fantastic and spot on with what he does. We are relieved that our accounts are now in safe hands. Thank you so much for recommending Chirag."
Abhjjit Bam

Estuary Labs (Customer Experience Division of Paryana Sales Pvt. Ltd.)
Meticulous and well in time....

Mr. Chirag Varaiya has very good knowledge and is very prompt in his work. The job done is carried out very meticulously and well in time. We strongly recommend everyone to avail their services.
Mannoj Rijwaani

Consult Me
Professional Approach...

We were very much comforted as soon as Mr. Chirag took over. He handled our accounts with a professional approach with proper solutions in time which enabled progress in our work. We were benefited by your sincere services till date.
Pranav Anum

Inspired Consultants
Meticulous and well in time....

The recent case is of Prashant Belose. He is very much satisfied with the services provided by Chirag and his Team and we now take up the funding of such cases confidently and with assurance from us that whatever best possible will be done by Chirag Varaiya and Company. Very truly Chirag you are not only sabse Tej but sabse Perfect.
Venkatraman S Iyer

MAX SYSTEMS
I look forward for the same services...

Let me share an incident my accountant who submitted all our accounts related details for financial year 09-10 (last year) on 30th July 2010 whereas the last date is 31st July 2010. On 1st Aug my accountant came with a filed copy of an acknowledgement. I was so much pleased & motivated by the professional approach of Mr. Chirag.
Chirag Kolhe

Purple Soil Technology Ventures
Can unravel all intricacies...

Working at breakneck speed, Chirag was able to get my papers in order and also help submit my returns much before time. If this was the cake the icing is that he is getting me a big amount as tax refund too. Thanks a lot Chirag. Hats off to your professional acumen
Suresh Srinivasan

Erudite Management Solutions Private Limited
Excellent services

Chirag Varaiya and Co. exemplify this through their professionalism and thorough knowledge. They not only have a profound know-how of their métier but also have expertise and are continually updated with the latest developments and changes in the same. We are very pleased to recommend Chirag Varaiya and co. with special endorsement.
Shailesh Pednekar

Mahindra and Mahindra
Given more than what is expected

I am happy to say that they not only fulfilled their given responsibility but also have gone on extra mile out of the way and have helped us solve a critical matter pertaining to TDS of my other company whose accounting / audit is not done by them. I applaud CVCO'S precisions, judgement, experience & most importantly their speed. I wish CVCO'S team all the best for their future.
The BEST firm to refer to

I have referred 3 difficult cases and also other complicated matters; he has done Magic or should I say MIRACLE and saved my friends / clients from the most difficult of situations. Simply, any difficult case now, I am sure Chirag bhai and CHIRAG VARAIYA AND ASSOCIATES will be the BEST firm to refer to and you can refer with assurance that he will bring the person out from trouble.
Ulhas Shetty

Ulhas Shetty & Co.
Meticulously took up the issues

Our organization was stuck up with notices and payment summons. Mr. CHIRAG VARAIYA and team calmly and meticulously took up the issues with the government authorities and enabled us to receive refund for the same year of the claim. Wishing all the best to Mr. CHIRAG VARAIYA and his esteemed organization.
K. Muthukrishnan

HKM ENGINEERS AND CONSULTANTS
The quality of service

The quality of service, eagerness to help, depth of knowledge, and speed of work are attributes that stood out for CA Chirag and his team. "I would like to congratulation them for this remarkable professionalism and dedication to their work."
Dr. Naman Hiralal Vora & Dr. Darshan Hiralal Vora

Dr. Vora's ( SUPER SPECIALITY DENTAL CARE )
Sabse Tez and Sabse updated

Be it income tax, service tax or VAT, Chirag has in depth knowledge in each of them. More importantly, Chirag updates himself with the latest changes in the laws and rules, makes sure his staff is also briefed about the same AND PASSES ON THE INFORMATIOM TO HIS CLIENTS. I can and will recommend Mr. Chirag Varaiya to everyone in my circle as I have no doubt that he is indeed "Sabse Tez and Sabse updated" in the field of Audit and Taxation.
Kinjal Pandit

Delta Solutions
Remarkable Professionalism

Like the 11th hour Samaritan, Chirag worked wonders for them. Right at the last hour, when their CA stepped down from his job, Chirag entered the scene, and completed the job in just 1 hour ! Yes, that's right, 1 hour ! I have never seen any CA, who took the job at 11 pm at September, 30 and filed return sharp at the stroke of midnight.
Manisha Gandhi

Arihant AirConditioners Pvt. Ltd.
Latest changes in the laws and rules

In the past 13 years, I have been associated with a lot of Chartered Accountants and have never come across one who is himself updated with changes in the various tax laws, but makes sure his staff is updated and on top of it, his clients are updated with the latest rules. We have promptly shifted our VAT work of our companies to Chirag Varaiya & Co. and have also referred his name to our acquaintances.
Girish Vira

JV Hospitality Pvt Ltd
Excellent services

We are running a search portal named www.thanemumbai.com for the last two years. We joined them one year back and feel complete peace of mind in their safe hands. With their support and positive approach we could get our I T Refund easily which was pending for the last six years.
Surendra Gupta

Supermax Vision
Continuous follow ups

Few months back I had lot of problems in my Accounts. My Earlier CA had just not filed the Returns and there was a lot of mess. Within few days time, after I handed over my entire books of Accounts to Chirag, all of them were properly maintained. I heartily thank Chirag for the services he provides and recommend all to kindly avail them and refer him good business in future.
Dipen Shah

Lilac Concepts
Prompt work & support

We have done the Income tax Audits through 4 Chartered Accountant in our 10 Years span & it is we who where behind them for filing of returns & other activities. Chirag Varaiya & his team have up to date Knowledge in their field & would specially appreciate for their prompt work & support which they provide to the customer. We look forward to a strengthened relationship of renewed mutual support & cooperation in the times to come.
Kamlesh S. Sawant

Water Treatment Services
Thank You for the efforts from your team

Thank You for the efforts from your team for getting us the GST registration and certificate. Special thanks for Mr. Pradeep who has taken pain to get this done. In this connection I appreciate my Accounts team also for prompt response.
Anuradha Chavali

GREENRAYS ENERSOL PRIVATE LIMITED
Very sincere and educated

We sincerely appreciate on behalf of the management and the Account team for the systematic audit conducted and professional approach shown by both of them. We will all remember them and specially the smile on their faces for the complete audit period.
Nuresh Patel

Kinnari Printing Technologies Private Limited
Proud to have CVCO

We are proud to have CVCO as our associate partner. My gut feeling says….you have bright future ahead….lot more to achieve…. We wish and pray to Ariant Parmatma you get all you deserve. "You may get good thoughts from all the direction "….". Rig Veda"
Shailesh C. Pandya

Scion Chem Pvt. Ltd.